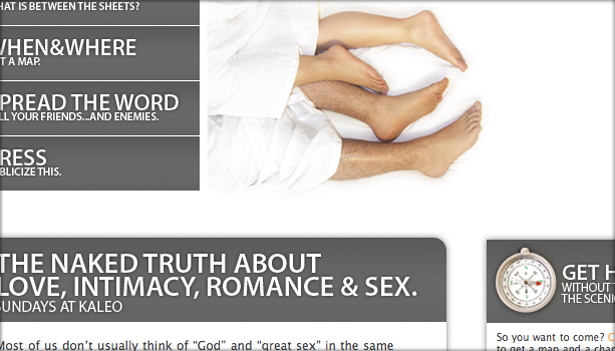 What's Between the Sheets?
Between the Sheets was a sermon series at Kaleo Houston in the book of Song of Solomon. So yeah…we had the sex talk.
Knowing this series would draw interest, we pushed hard to promote this series as much as possible in every sphere of influence that we could.
This site was at the hub of all of our communications. Our flyers, posters, bring-vites, press releases, and even our MySpace was built and designed to get people to this site. The site was built to get people to the series. This two-step approach might seem a little too complicated…I mean, why not just go from flyer to Sunday morning right?
We wanted peoples' permission to market this series to them. We wanted to make a connection and get them to make some kind of mental/emotional/spiritual investment in the subject matter. We wanted to ask a lot of questions. If we just put out flyers that said, "Don't sleep in…sleeping in is for sinners…come to our church…" we would have lost them.
A visit to the site was the start of that investment and permission for us to tell people all about the series and invite them to come hear it. It worked.
We didn't see an explosion of growth but we did see more new visitors every week.
The site attracted A LOT of attention across the internet as well — some bad, but mostly good. There were a ton of people who blogged about it and a lot who were glad that the church is finally willing to talk about sex (not that that is all Song of Solomon is about but that's the part the church has avoided).
I wanted to push the envelope visually and I believe I did…as far as I ever will too. Finding just the right image was difficult, especially since most stock photo sites do not have the same "discretion" you might hope they would. So I set up our own photo shoot.
I pulled together models, set up lighting, and set the stage to capture the image that would define the series. Once we had an image, we built the rest of the campaign around that.
Since the goal of the site was to get people to theGathering to participate in the series and then to perpetuate the marketing effort, I limited the site to five pages. Three of those pages are dedicated to informing people about the series and inviting them to come. The other two pages are devoted to spreading the word through an online press release, high-res images, web banners with cut-and-paste code, desktops, and downloadable PDF posters.
This site is built around a content management system that allows even the church secretaries to update the site through a secure, web based back-end.