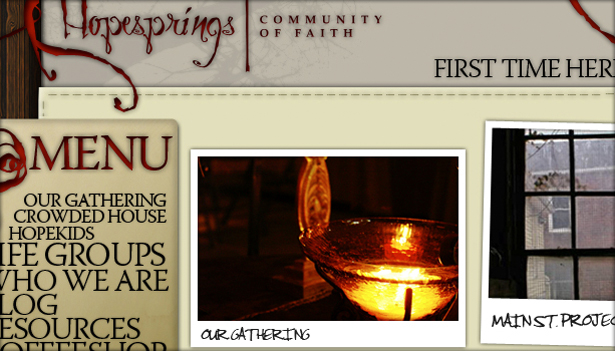 Hopesprings Community
Hopesprings is a new community of Christ- followers in the Slate Belt area of Pennsylvania, made up of everyday folks who are learning to simply follow Jesus as honestly as we can, and grow in our capacity to love God, and others well. This is reflected in their mission statement- The Most important thing: Loving God, loving others.
As they were getting started they asked me to help define their identity and make their mark on the web.
Hopesprings just bought a old firehouse with thick wooden floors. They want to build it out and remodel the space to include a worship space, kids area, and coffee shop. The space and what they want to do with it were the inspiration for this site.
Once we had their identity in place, I moved to the site and tried to incorporate all of the organic, rugged, hand crafted elements of the new logo and the new building. Inspired by a previous version the Kaleo site, the team at Hopesprings requested several of the same features in this design. Of course, never wanting to visit the same place (design wise) twice, I managed to keep what they loved about the old Kaleo site while still creating something new.
To keep the site from feeling to dark and lonely, the Team at Hopesprings was able to snap a few photos for me and send them via email to incorporate in the site.
This site is built around a content management system that allows even the church secretaries to update the site through a secure, web based back-end. The site also includes and events calendar.