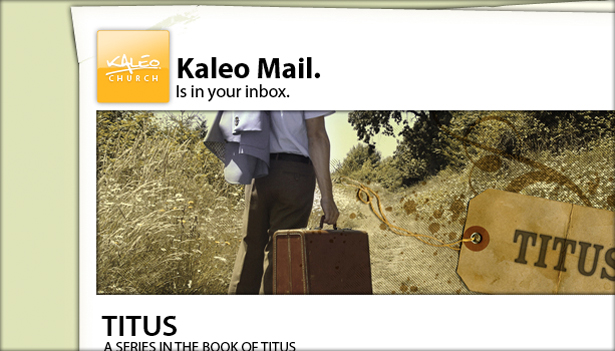 Kaleo eMail is in Your Inbox!
eMail has been a vital way of communication for Kaleo. It is non-confrontational, non-intrusive, and there is no pressure. Those are great conditions under which to communicate.
I employed a locally hosted, FREE, really smart, HTML email list system to communicate the week to week at Kaleo. Users are able to subscribe, unsubscribe and are required to opt-in prior to receiving emails. Kaleo has been able to communicate with a much larger audience, and for much cheaper, than direct mail, home-visits, phone calls, or any of the other forms of mass communication.
With the current email template, the idea was to follow the feel of the website. I also wanted to keep things simple and give priority to certain communications. This template includes three spots for articles (others can be added pretty easily) each including imagery.
I have tried to prioritize communications at Kaleo. So, in regards to the email, I've highlighted one major article per week and then made room for two smaller, less important articles, and then cut everything I could so it would not distract from what's most important. I have found this to be very effective.