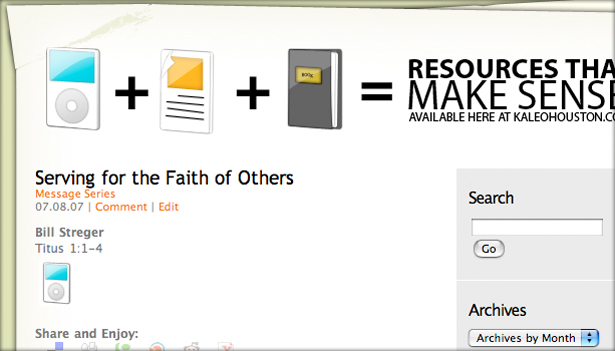 Kaleo Houston 6.0
Every week the sermon at Kaleo is recorded, EQ'ed, compressed, mixed down, and uploaded to the Podcast. I know this because I'm the guy that does it from start to finish.
The Kaleo Podcast and Resource page were Phase One of the version six site redesign. The theme of the redesign was simplicity. Prior to this version of the podcast we had a pretty confusing system for staying "in the know" about all things Kaleo. The new podcast and new site were a much needed overhaul.
The new podcast is targeted toward our "Non Technical" visitors. We have catered to their needs by making everything very visual. The icons that represent the audio and PDF downloadable content are BIG and you, "touch" them and they look like what they are: audio is represented by an iPod, PDF articles are represented by a few pages, and PDF booklets are represented by…you guessed it, a book.
A lot of podcasting is done via a messy XML feed. Each week the author has to get knee deep in code to update the thing and users can only access the content via a podcasting service or podcasting software. Since that is just no fun, I decided to create something our pastors mother could use…and she does…and she loves it. Internet savvy users can subscribe in whatever way they want and internet newbies can click on the icons and get the content. And for those in the middle, I have included a link to get iTunes and then, with one click, they can subscribe to the podcast and start listening. EASY.