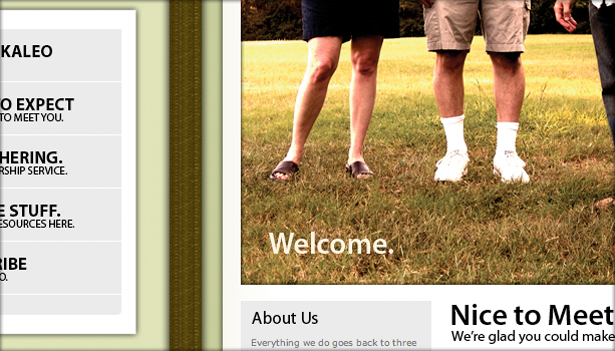 Kaleo Houston 6.0
This is my home church, the church I helped plant…this is my baby, and I work there too.
When Mark Retzloff, the Communication Director at Kaleo was asked what he wanted to see out of version six of the site he said this (well, I said this, to myself),
I want something simple. Something easy to navigate, and something focused…
So with this site, unlike previous sites, I focussed on simplicity and a focussed purpose.
The ministry process at Kaleo is to get people to theGathering to experience Intimacy with God on a corporate level. Then plug them into Groups to experience Community with Believers and then get them serving to help teach them Influence with Others. With that said, I defined two groups of people that would be visiting the site — Non-Kaleo People, and Kaleo People… they're not real glamorous names, I know…
For the Non-Kaleo People, I built a site around getting them to theGathering. We spent time describing what to wear, who you'll meet, and what to expect. There is a lot of information about the core values and beliefs of Kaleo. There is a lot of "People" imagery in the site and I made sure NOT to use stock photography. All of the photos on the site are of real Kaleo People in their natural habitat.
For the Kaleo People, I built a site around getting them plugged into groups and around keeping them consistent at theGathering. What I did not focus on was getting them to theGathering or even really telling them much about Kaleo as a whole. Basically, I focused on what is happening at Kaleo and how they can be part of it.
So basically, there are two sites with two separate purposes. Of all the sites I've done for Kaleo this is not my favorite to look at but it is my favorite as far as usability goes.
This site also features an e-list subscription page with subscribe and unsubscribe functionality and integrated HTML email system, and a resource index for all of Kaleo's PDF and audio resources. The resource index has podcast functionality but keeping with the "Ease of Use" theme, all of the audio is available for download straight from the site as opposed to only via a podcast subscription. This feature was important as Kaleo has many, how should I say, "Non-Technical" visitors.