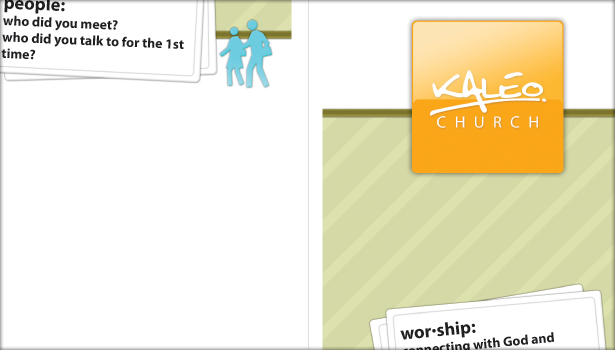 Kids are Bulletin Readers too
Kids are really important at Kaleo. Kaleo believes that kids should be just as much a part of the worship gathering as their parents are. They do provide Kaleo Kids Care during theGathering but when the parents feel their children are ready to be in theGathering, they're ready for that too.
That is why I worked with Sue, the Children's Ministry Director at Kaleo, on the children's bulletin. The bulletin is designed to give kids space to draw and write and/or take notes on what is happening during theGathering.
Since only a few of the kids at Kaleo are theologians, we kept the content pretty simple and just challenging enough to keep the kids engaged.
One really great feature about this bulletin is that they print two to a letter size page and they are not week, date, sermon, or series specific. This helps save money and time in printing a few hundred at once instead of 10-20 each week.
Here are the spreads: