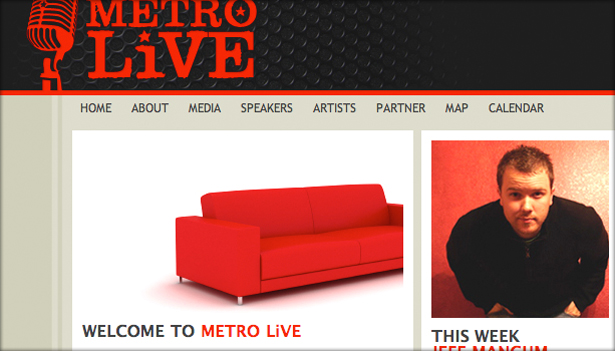 METRO LiVE
Metro Bible Study ran from 1995 to 2005 as a Bible study on Monday nights for young single adults to grow in the Word of God. During that time, biblical and relevant messages were delivered by a number of speakers such as Dave Edwards, Scott Crenshaw, Gregg Matte, Matt Chandler, Ben Stuart, and Voddie Baucham. Musicians such as Watermark, Caedmon's Call, Robbie Seay, Matt Brouwer, Smith Band, and many more kick-started their music careers leading worship for Metro Bible Study.
In 2006, Metro Bible Study returned on Thursday nights as METRO LiVE — a summer-long event for all young adults (married or single). Incorporating the same passionate worship and Biblical teaching, METRO LiVE continues this summer to engage young adults in the Word of God.
For this site, I teamed up with Dunamis Media. Together we created a new identity and wanted to carry that new identity into the site. We wanted to convey the "LiVE" feel but maintain a gender-neutral tone. Organics were my first choice but as I worked with the singles ministry staff at HFBC, Houston's First Baptist Church, we decided to keep things with in a live performance, on-stage, live show feel.
The microphone logo is a throw back to early metro days when a microphone was a key element in their identity.
This site is built around a content management system that allows even the church secretaries to update the site through a secure, web based back-end.