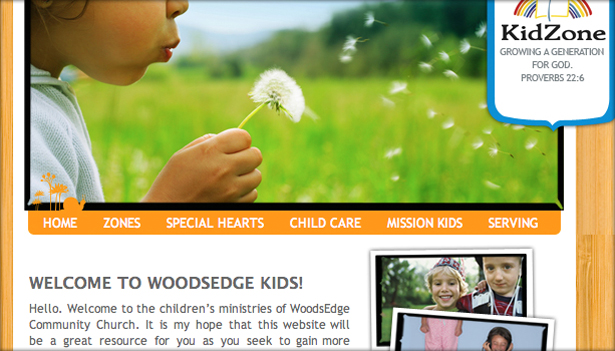 WoodsEdge Kids
WoodEdge Church is a growing, thriving church in the Woodlands, Texas area. They are just about to go multi-site via video feed in at least three campuses. In the mood for upping the anti, they decided to launch a brand new Kids Ministry site and guess who got to build it…me.
This was another project in cooperation with Dunamis Media. For this project, we wanted to capture the essence of children's ministry but personally speaking, I wanted to do something different. They gave us a logo and creative license to build the site we would like to see. The logo included a rainbow so right away I was thinking color, bright, day time, and outdoors. Their church is called "WoodsEdge" and they are located in a woodland setting (in Woodlands, TX…go figure) so I thought, "What if we could get shots of kids outdoors possibly with trees in the background to allude to the 'edge' of the woods?"
Once they saw the mock up they said this:
We love the site… That little girl is on the cover of our Handbook, so it is perfect for the website.
Who knew?! We must have been on the same wave length when searching for imagery.
As with most of my sites, I try to focus on simplicity. If the site is not easy to use, than it is kind of self-defeating right? But it should look beautiful too. So I went for both, making sure the content was search engine optimized, easily accessible and well formatted while the shell that wrapped it was dynamic, detailed, and top notch.
Since the launch of this site, WoodsEdge church has asked Dunamis Media and myself to begin conceptualizing a new site for the church.
This site is built around a content management system that allows even the church secretaries to update the site through a secure, web based back-end.